By Frank Curzio, editor, Small Stock Specialist 
Friday, August 9, 2013
Over the past few years, a handful of major oil and gas explorers have quietly accumulated massive amounts of land in a little-known shale area in West Texas...
Early estimates show this small, oil-rich region could contain 50 billion barrels of recoverable oil... making it the biggest oilfield in the country and the second-largest in the world.
And their bet is paying off.
Many of the area's big oil producers just reported blowout earnings from their drilling operations in the region. And it's only the beginning...
But there's another area within the Permian Basin catching the attention of oil producers – the Wolfcamp Shale.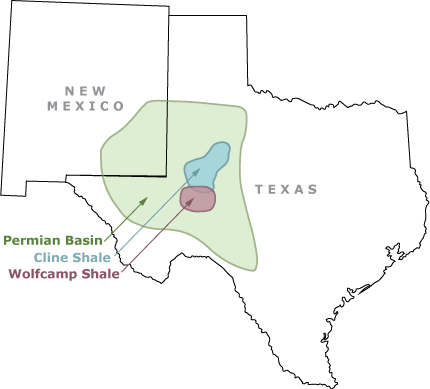 My colleague Matt Badiali told you about the huge potential of this area a few months ago. He explained the 
Wolfcamp Shale
 is one of the few shale areas in the U.S. that has several layers in which oil companies can drill.
Think of it as a layered cake...
Each one of these layers has huge potential for oil. The layers include the upper Wolfcamp Shale (4,000 feet below the surface), lower Wolfcamp Shale (6,000 feet below the surface), and the Cline Shale (7,300 feet below the surface).
Like Matt mentioned, these stacked plays are great for oil and gas producers. And if they want to increase production, they don't have to worry about the huge costs of a brand-new exploration program. That's because their exploration is directly under their existing wells.
Over the past few years, oil-producing companies – like Pioneer Natural Resources, Devon Energy, and Energen – have been buying up acreage in the Wolfcamp like crazy.
And this move is paying off big.
Over the past week, every one of these companies reported blow-out earnings. During their conference calls, each highlighted the huge results they are just beginning to see from the Wolfcamp Shale.
I called my friend Cactus Schroeder two days ago to ask him about the Wolfcamp. Cactus has been drilling for oil in Texas for more than 30 years. I've written about him at least a dozen times in these pages. And I toured the 
Eagle Ford
, 
Permian Basin
, and 
Cline Shale
 areas with him several times over the past year.
"Frank, it's pretty wild how much drilling is taking place right now in the southern part of the Wolfcamp," Cactus told me. "It's likely to continue for a real long time."
I agree...
Pioneer Natural Resources owns over 700,000 net acres in the region. And production is soaring. During the company's most-recent quarter, production surged 26% versus a year ago. The wells Pioneer drills in the Wolfcamp are super-productive. Many of the new wells produce more than 1,500 BOE (barrels of equivalent) during the first few days. To put this in perspective, a new well is considered a big success if it hits the 1,000-barrel-per-day mark. Wolfcamp wells are true "gushers."
Last week, management said it plans on spending $425 million of its $1.6 billion budget developing wells in the Wolfcamp. Specifically, the company intends on doubling its rig count over the next two years in the southern part of the area.
Devon Energy is experiencing a similar boom. The company owns roughly 250,000 acres in the Wolfcamp. In the most recent quarter, its production surged 32% versus a year ago. Devon recently drilled 34 horizontal wells in the Wolfcamp and brought 19 online. These wells are also producing up to 1,000 barrels of oil per day. That's huge.
Devon is spending about $1.5 billion to develop its Permian Basin properties – including at least 300 new wells.
Energen is a smaller player in the area. It's a $4 billion oil producer with 40,000 net acres in the Wolfcamp. The company is also drilling in the southernmost part of the area right now. And early results have been nothing short of fantastic. In fact, the stock jumped 17% in one day last week after reporting strong drilling results in the Wolfcamp Shale.
Almost every oil and gas company operating in the Wolfcamp is reporting blow-out numbers. And the three companies I mentioned above are going "all-in" – spending hundreds of millions of dollars to expand operations in the area.
These are three great growth plays in a market where many companies are struggling for growth. Sure, these names have run up since reporting earnings results last week. However, after talking to industry professionals and doing some good old "boots on the ground" research, I believe this growth is likely to continue for many years to come.
I suggest adding at least one of these names to your portfolio today.
Good investing,
Frank Curzio